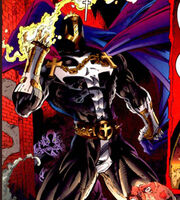 "Don't you understand? You must be even more ignorant of your Hellspawn abilities than we've determined." - The Redeemer
Biography
Edit
The Redeemer is a character who is introduced in Spawn Issue #31. Originally a man named Phil Timper, he was abducted by the beings of Angel Station and infused with the powers of Elemental Fire. In essence, he is the reincarnation of Anti-Spawn.
Ad blocker interference detected!
Wikia is a free-to-use site that makes money from advertising. We have a modified experience for viewers using ad blockers

Wikia is not accessible if you've made further modifications. Remove the custom ad blocker rule(s) and the page will load as expected.