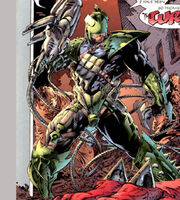 "You'll not be forgotten when I receive The Power. I will not shun you, as I have been. So promises THE CURSE!" - The Curse
A green-armored villain in the Spawn series. He is first introduced in Spawn Issue #27 - and is seen blowing a massive hole through Spawn with his futuristic arm-cannon. It is revealed that he believes Spawn has been endowed with special powers by God - but after Spawn's easy defeat, The Curse begins to doubt this thought. He leaves the alley, accusing Spawn to be a minion of Satan instead. Spawn displays that he is not so easy to defeat, and kicks the Curse's ass - pinning him against the alleyway walls similar to Jesus on the crusifix. The Curse realizes that God has forsaken him, and makes a decision to now fight his 'own' battles, starting with Spawn. He remains pinned to the wall permanently until Spawn Issue #31 where it is revealed that he got free and ran off in a hurry, leaving a large portion of his arm behind.
It is noted that at the beginning of Issue #27, he is referred to as "Mr. Krahn".
Ad blocker interference detected!
Wikia is a free-to-use site that makes money from advertising. We have a modified experience for viewers using ad blockers

Wikia is not accessible if you've made further modifications. Remove the custom ad blocker rule(s) and the page will load as expected.