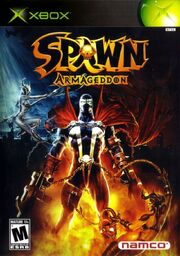 Spawn: Armageddon is a video game released for Microsoft X-Box, Sony PlayStation 2, and Nintendo GameCube in 2003. It is a 3D action/adventure game where the player controls Spawn himself, and play through the first 99 issues of the Spawn comic book series.
Reception
Edit
It was not especially panned by the public, but it was considered quite forgettable by both critics and fans of the Spawn series. It was compared to the Devil May Cry series.[1]

References
Edit
Ad blocker interference detected!
Wikia is a free-to-use site that makes money from advertising. We have a modified experience for viewers using ad blockers

Wikia is not accessible if you've made further modifications. Remove the custom ad blocker rule(s) and the page will load as expected.