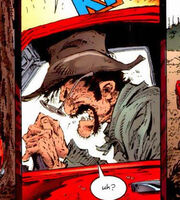 "Yee-Hah!" - Ray Crabtree Jr.
Biography
Edit
A member of the KKK introduced in Spawn Issue #30. He is the proud owner of the most powerful 4x4 in the county - costing almost 2 years worth of savings for the down payment. So naturally, when Spawn finds out of his doings, he destroys what Ray loves most - his truck.
Ad blocker interference detected!
Wikia is a free-to-use site that makes money from advertising. We have a modified experience for viewers using ad blockers

Wikia is not accessible if you've made further modifications. Remove the custom ad blocker rule(s) and the page will load as expected.