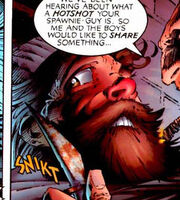 "BURP! That felt good." - Paul
Biography
Edit
Paul is an older, bearded homeless man who lives in the same alleyways of New York City as Spawn. Introduced in Spawn issue #25, he is first seen listeing to Wilbur discussing Baseball Trades. He later gets up to releive his bladder, when he is confronted and beaten by a massive punk - later revealed to be David Brewi - who states that he is ready to start a turf war with Spawn.
Ad blocker interference detected!
Wikia is a free-to-use site that makes money from advertising. We have a modified experience for viewers using ad blockers

Wikia is not accessible if you've made further modifications. Remove the custom ad blocker rule(s) and the page will load as expected.