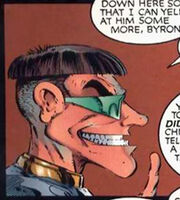 "We don't do drugs. We don't sell drugs. We eat our junk food and we steal our electronics equipment and we 'kill' Creeps." - Norton
Biography
Edit
Norton is a tall, slender male member of the street gang known as The Nerds. He is first introduced in Spawn issue #11 and is found to be the second-in-command of the group. In the beginning of the issue. he orders Boomer to make an attack on the alleyways. When Boomer returns to report sighting of a strange caped figure, Norton thinks him to have been taking drugs and with Byron's help, kills him. Shortly after, Spawn initiates an all-out war between the Nerds and the Creeps which leads to the death of Norton, along with all the other gang members.
Ad blocker interference detected!
Wikia is a free-to-use site that makes money from advertising. We have a modified experience for viewers using ad blockers

Wikia is not accessible if you've made further modifications. Remove the custom ad blocker rule(s) and the page will load as expected.