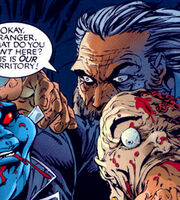 "Okay stranger, what do you want here? This is our territory." - Mr. Hughes
Biography
Edit
An older homeless man who lives in the alleyways of New York City. He is good friends with both E. and Jimmy D. He is never seen in any of the issues, but one - issue #2 of the Violator mini-series. He is among the three bums who bring Clown to visit Spawn who needs help getting his powers back to fight the Phlebiac Brothers.
Ad blocker interference detected!
Wikia is a free-to-use site that makes money from advertising. We have a modified experience for viewers using ad blockers

Wikia is not accessible if you've made further modifications. Remove the custom ad blocker rule(s) and the page will load as expected.