"Please Mr. Miller, I can't--!" - Linda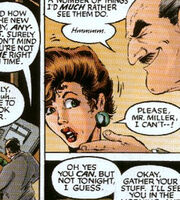 Biography
Edit
This newly married secretary at the CIA New York Headquarters is introduced in Spawn issue #3. It is shown that she works for Billy Miller, who tries to sexually harass her before Spawn gets to him. Not much is known about her except for the fact that she was recently married.
Ad blocker interference detected!
Wikia is a free-to-use site that makes money from advertising. We have a modified experience for viewers using ad blockers

Wikia is not accessible if you've made further modifications. Remove the custom ad blocker rule(s) and the page will load as expected.