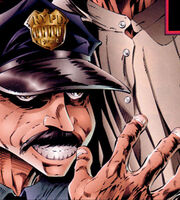 "I'd like to introduce someone who's a specialist in the unusual disturbances recently besetting our city." -
Biography
Edit
Lieutenant Troy is a cop who is first introduced in Spawn Blood Feud Issue #1. He, along with Captain Burgess, welcome John Sansker to the stage to make his presentation on Spawn.
Ad blocker interference detected!
Wikia is a free-to-use site that makes money from advertising. We have a modified experience for viewers using ad blockers

Wikia is not accessible if you've made further modifications. Remove the custom ad blocker rule(s) and the page will load as expected.