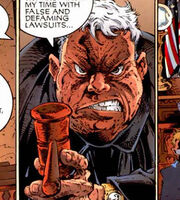 "Soon! Very soon, brothers!" - Judge Zachery Missen
Biography
Edit
Judge Zachery Missen makes his first and only appearance in Spawn Issue #30. He is the judge who presides over the case between Brad Armstrong and some members of the KKK, Peter and Johnny. It is later revealed that Zachery is actually the leader of a group of the KKK himself. He is killed when Spawn finds out, and uses his powers to turn him into a black man. The rest of the KKK, including Bill and Gary, linch him to a tree.
Ad blocker interference detected!
Wikia is a free-to-use site that makes money from advertising. We have a modified experience for viewers using ad blockers

Wikia is not accessible if you've made further modifications. Remove the custom ad blocker rule(s) and the page will load as expected.