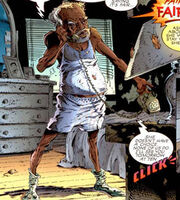 "Sweet Jesus. What kind of country sends a child from her dad."- Fred Barnett
Biography
Edit
This 51-year old African-American is the father of Katie Barnett, and is seen in Spawn issue #26. He is revealed to have lost his wife fifteen months earlier, and to have become an unfit father. Therefore, after a hearing at the New York State Courthouse, he loses custody of his daughter. He is brought to Spawn, in hopes of obtaining help, but is brutally turned away. We later find out that he, in his sadness, commited suicide.
Ad blocker interference detected!
Wikia is a free-to-use site that makes money from advertising. We have a modified experience for viewers using ad blockers

Wikia is not accessible if you've made further modifications. Remove the custom ad blocker rule(s) and the page will load as expected.