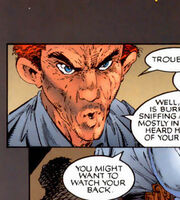 "Well, the word is Burke's been sniffing around lately. Mostly in your direction. Heard he even got some of your phone records." - Eric
Biography
Edit
Eric is a member of the New York City Police Department. He makes his first appearance in Spawn Issue #35. He is the one who tells Chief Tim Banks that Detective Sam Burke is becoming suspicious and had compiled a list of phone records.
Ad blocker interference detected!
Wikia is a free-to-use site that makes money from advertising. We have a modified experience for viewers using ad blockers

Wikia is not accessible if you've made further modifications. Remove the custom ad blocker rule(s) and the page will load as expected.