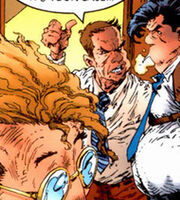 "I just heard that Banks and a couple of his ass-kissers just took off to the alleys. He was going off the deep end about that vigilante, Spawn." - Bob
Biography
Edit
Bob is a member of the New York City Police Department and is only seen briefly in Spawn Issue #35. He advises Detective Sam Burke and Detective Twitch Williams that Chief Tim Banks has gone to the alleyways with both Smith and Jensen to confront Spawn.
Ad blocker interference detected!
Wikia is a free-to-use site that makes money from advertising. We have a modified experience for viewers using ad blockers

Wikia is not accessible if you've made further modifications. Remove the custom ad blocker rule(s) and the page will load as expected.